Onesize Insert
The obvious insert to use for the Easy cover is the WeeCare Onesize Insert, which is easily snapped into the cover with a button in each end.
The onesize insert fits in both sizes of Easy covers and consists of materials that are naturally absorbent. The Onesize insert consists of four layers of well absorbent hemp fabric (a mixture of 55 % hemp and 45 % organic cotton), topped with the softest bamboo velour (55 % bamboo viscose, 25 % organic cotton and 20 % polyester), which is touching the baby's skin. The bamboo fabric against the baby's skin has a touch of stay-dry effect, which means that it does not feel as wet as, for example, pure cotton. If you want an optimal stay-dry effect, you can advantageously place a fleece liner on top of the insert – next to the skin.
The Onesize Insert has waterproof PUL fabric at the back, which protects the cover so that it does not get wet so easily. This way the cover can be used again if it has not become wet or dirty. The onesize insert is open in the middle to allow air to flow through when it is hanging to dry. This way it will dry faster than an insert where all layers of fabric are sewn together all around the edge. The onesize insert has leg gussets of soft micro fleece fabric, which helps keeping stools and pee better inside the insert and also helps protecting the cover from getting wet or dirty.
All In One or All In Two
You can choose between using the WeeCare Easy diaper as an AI2 model (All In Two), where primarily the insert is substituted when changing the diaper; or as an AIO diaper (All In One), where both the insert and the Cover is renewed at every change.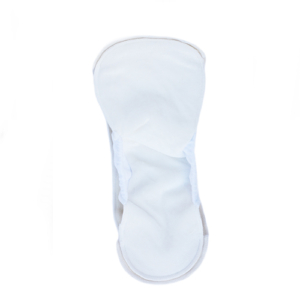 1
Very soft bamboo next to baby's skin
3
Hemp and organic cotton inside
The WeeCare Easy diaper (with Danish text)